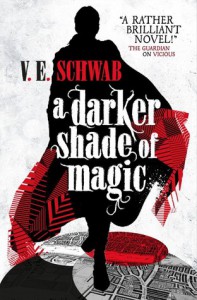 Sometimes I pick books for the weirdest reasons. Like the colours on their covers: use the black/red/White combo, and odds are I'll be interested. So when there's a Black, White, Grey and Red *London* on top of it, count me twice interested. Not to mention travelling between worlds, magic, a feisty female thief, evil twin rulers, and did I say magic?

I can't exactly remember why I had put A Darker Shade of Magic on my to-be-read list, months ago. But it was probably for all those reasons. And probably because I had really liked the other works of Victoria Schwab I read (Vicious and The Archived). Three time's a charm? Well, yes. Definitely yes.

Even though you could say that the plot advertised on the blurb "only" starts around the 25% mark, what would have annoyed me in another novel didn't in this one, because it allowed for enough room to place the context: after all, it's not only about Lila robbing Kell, then saving his life, but also about the four Londons and travelling from one to the other. Those first hundred pages were not of the filler kind; they were useful, pleasant to read, and gave me to see the worlds Kell goes through on a regular basis. Without this background information, the importance of what he has to do later wouldn't be as blatant. Without this, I wouldn't have got to both love and hate the Dane twins (especially Astrid). Without this, I wouldn't have appreciated Rhy, or dreamt about a London thriving with magic, while another, "duller" one existed somewhere else.

I loved the concepts developed in this series, plain and simple. Opening doors to other worlds. The mysterious, dangerous Black London, and how it became so. Magic drawn from elements, but also from the blood. The ambiguity of the >Antari, whose black eye can't be just any old coincidence. The resentment born in the streets and the palace of White London, and for a good reason. Though some things turned out much different than what I had anticipated, they did so in ways that made them, in fact, better. Victoria Schwab definitely has a knack for creating interesting worlds.

Kell was pretty likeable. Somewhat too nice for his own good, but characters can't all be selfish all the time—and he had his guilty little smuggling pleasure, kind of like an addiction. Granted, he got on my nerves sometimes, because of his tendency to lament what may or may not have been his plight (was he really a possession more than an adopted child, or not?). Fortunately, Lila put him back in his place, and this is one of the things I loved about her. She may have jumped into the "adventure" without thinking much at first, but not having much left to lose in her world, nor much to hope for, was this so surprising? She also wasn't of the damsel in distress kind, displaying a ruthlessness that went well with her upbringing and the life she had led up until now. Lila won't give you no bull, no Sir. She'll draw her gun, however. Or steal a sword. Or slap our red-coated mage on the back of his head whe needed (both literally and figuratively, come to think of it). And there's more to her than meet the eye. Literally as well here. Hee, hee.

While the novel wraps on an ending and not on a cliffhanger, a fair deal of mystery still surrounds the characters, paving the way to a sequel. There's no way everything got told yet about the four Londons, about what will happen to them, about what Kell and Lila will do next, about their respective pasts (nope, author, I haven't missed the little clues you dropped now and then). This is perhaps why ADSOM left me wanting, in a contradictory way: part of me wouldn't have liked the plot to start later, yet another part would've happily gobbled down 100 or 200 more pages of daily activities or descriptions about Red London, Lila's thefts in Grey London before she met Kell, or Astrid's antics. And Holland probably deserves a book of his own, too.

In any case, count me in for the sequel, hands down.